Unique,
Different and Beautiful.
BLAU made the most
beautiful Briefcase in the world.
The concept behind our production
philosophy is to be
unique,
diffirent and beautiful.
Briefcase
Overwhelming beauty
BLAU makes the most beautiful
brief cases in the world.
Shaved aluminum brief cases are
the first in the world with
rivet and joint point less design.
All made in Japan.
PartsAll parts
made of shaved aluminum.

Handle
Its ergonomic designed handle was conceived to fit all types of grips and offer you a minimum weight experience.
Lock Knob
The lock mechanism of the case designs a unique shape that has never been seen before.By rotating left and right the beautiful knob with diamond cut, the lid of the case opens and closes.
Lock Plate
The briefcase is also beautifully designed behind the locking mechanism.By rotating this plate with diamond cut left and right activates the locking mechanism.
The Art of Fusion
BLAU's briefcases are made by shaving aluminum
as in conventional metallic luggage,
but with the particularity of not having
any rivets or screws,
giving it a beautiful and gradual curve design.
This shell combines three-dimensional curved
real leather parts
to give shape
to a soft and beautiful briefcase,
in spite of its metallic elements.
That is
what no one
had ever done before.
BLAU brief case cuts aluminum
ingots to make shells.
Aluminum weight is about 36 kg.
We cut it down to 972 g
by getting rid of unnecessary material.
The thinnest part of the case is 0.8 mm.
By luxuriously cutting it at 97.3%
with precision design of
1 / 1,000 keeping the strength
and weight saving structure,
we are able to bring this beautiful design into shape.
And Beautiful.
Leather is also three-dimensional,
elegant round shape.
Piano paintThe highest peak
of expression.
Black deeper
than coal black.
The model with piano paint was treated by
the skilled craftsmen on the surface
of the case for oxide coating treatment,
blasting treatment, several degrees of painting, polishing processing etc.,
an eight-stage process followed
by high temperature drying.
The result resembles a beautiful piece of art,
similar to a grand piano painted in deep gloss coal black.
It is as beautiful as a craft,
like refusing to touch itself.
Function & SpecialsThe casual functions
are also of excellent design.
Free Hinge
By adopting a special hinge, it became possible to stop the shell lid at any position. By doing this, it is possible to prevent the stored items from falling unexpectedly by opening the lid.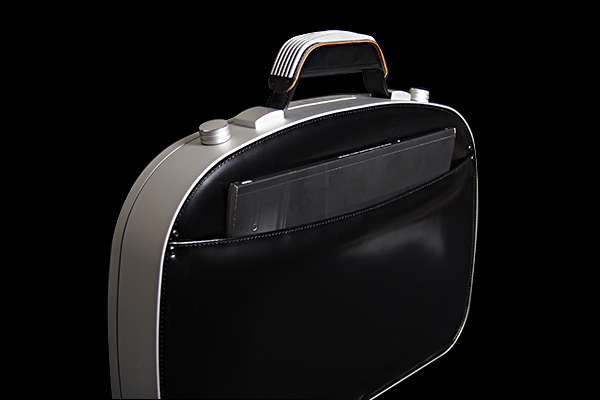 Pocket
On the back of the bag there is a convenient storage pocket never found in metal bags so far.Simple documents, such as letters and memos, can be kept in this pocket without opening the bag.
Partition
Dividing parts were attached to the inside of the bag. This prevents the stored items from changing their position in the bag keeping the stored items organized.
Belt
Dividing parts were attached to the inside of the bag. This prevents the stored items from changing their position in the bag keeping the stored items organized.※OPTION
Clutch Bag
The shell lid was provided with a removable clutch bag.For example, it is possible to remove and carry only the clutch bag containing your PC, documents and cell phone inside the office.※OPTION
Inner pocket & Passport Case
On the back of the bag there is a convenient storage pocket never found in metal bags so far.Simple documents, such as letters and memos, can be kept in this pocket without opening the bag.※OPTION
Contact
Contact Us
BLAU Design Complex Inc.comfort-Square304, 2-9-27, Okusawa, Setagaya-ku, Tokyo, 158-0083, Japan
03-5731-8355
http://blaudesign.blogspot.jp/